LTP Clearer Roller is made out of quality materials and sturdy design to withstand long and trouble-free working.
OUTSTANDING FEATURES :
L.P.T. Clearer Roller cleaner cleans thoroughly the fluff from the roller and collects in the chamber provided by a unique suction device.

The fluff collected can be easily removed from the chamber.

The clearer roller comes out on the other side, completely cleaned automatically.

The guide is adjustable to fit on different diameter of Clearer Roller of different types of spinning machinery.
Technical Data
POWER

3 PHASE 1 HP/Single phase 440 V 1440 RPM

BRUSH

7" LENGTH NYLON BRISTLES 1440 RPM

F

AN

M.S. 390mm DIAMETER

DIMENSIONS

630mm X 410mm X 990mm

WEIGHT

125 Kg. NET (185 KG. GROSS)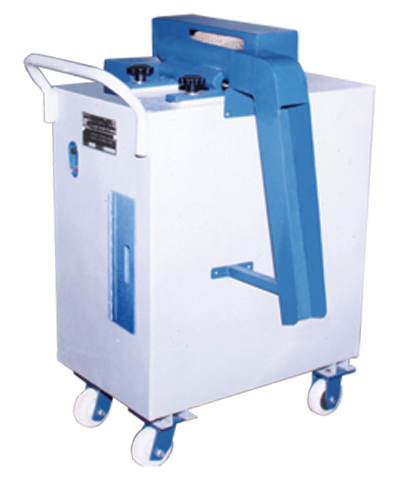 SILENT FEATURS
Saver 85% of the cleaning time and labour

Low power consumption with high efficiency

Adjustable to all size of rollers

Transportable easily within the mill

A superior device to clean the clearer rollers automatically

Laxmi have developed over lapping cutter which safe to be used for removing the over lapped cotton of polyester roving from the cost safely with damaging the cots at any stage. Normal habit of a tenter to remove the roving by means of knife or card wires which is always damaging the costly cost surface.

These systems is world wide accepted. OL Cutter is consists of a long handle for proper grip with a fixed cutter blade. This blade can be changed at a very marginal cost.