LTP Make Roving Striping & Opening Machine with 12 Nos Striping Rollers and Variable Speed Mechanism to Step up to 600 Roving Bobbins pr Hours. Machines is very high demanded in India and Abroad Countries with many clients repeaating the order.
OUTSTANDING FEATURES :
Machine will self strip the bobbin as such no cutting is required like conventional machine, No scratches or cut on the bobbin, longer life of Bobbins.

Machine will completely open the fibre so that the same can be directly feed in the mixing.

Quick stripping and opening, Reducing in stock of the Bobbin.

Roving opened without compressor air. Roving open by combing blades. After opening fiber is not damaged and neps are not generated.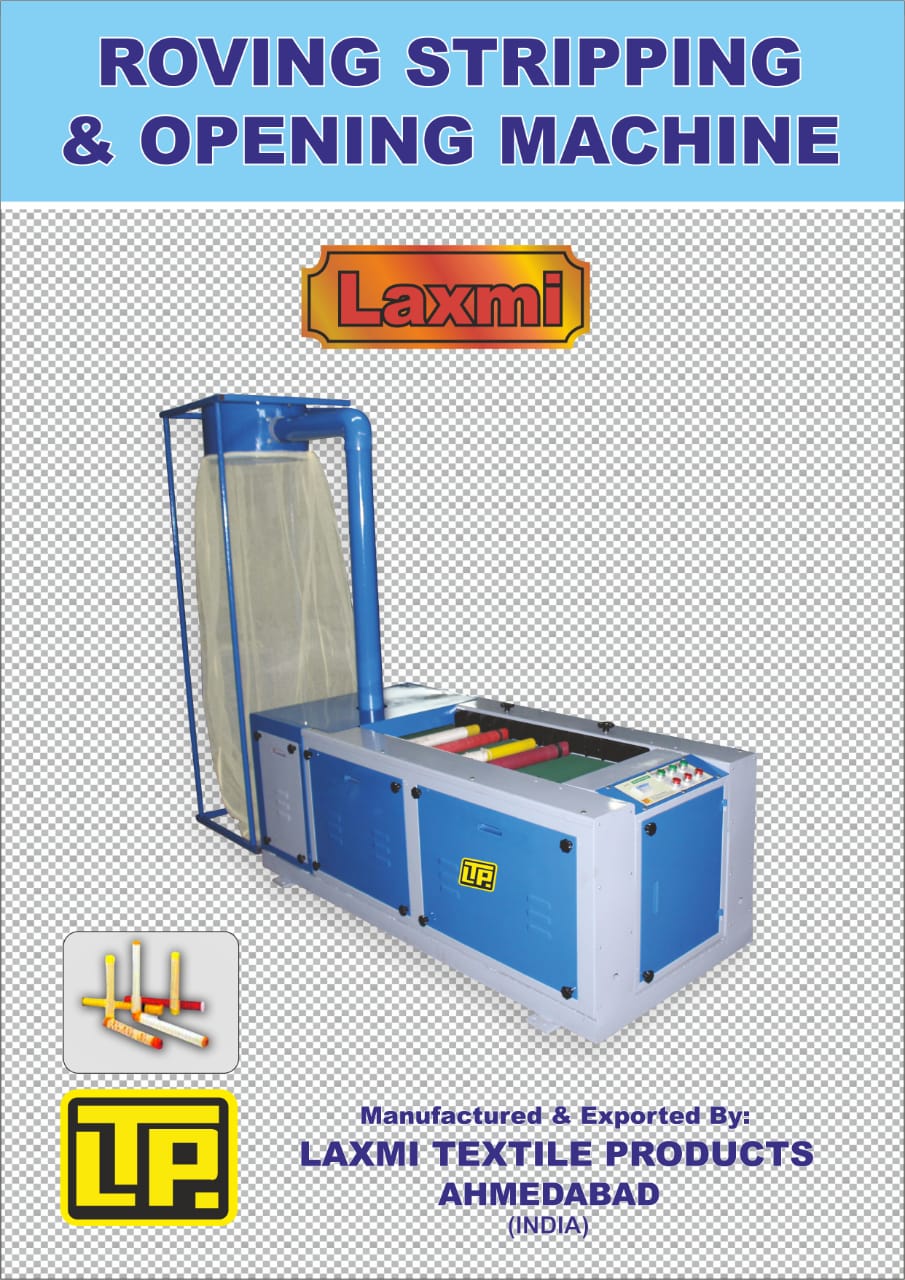 Technical Data
MACHINE MODEL

RS01

:22 NOS WITH VARIABLE SPEED

MECHANISMS

PRODUCTION CAPACITY

:600 BOBBINS PER HOUR / (MORE DEPEND UPON CONTENT OF BOBBINS.)

BOBBIN LENGTH

:450 mm MAX

DIAMETERS OF ROVING

:80 mm MAX

TYPE OF MATERIAL

:COTTON, POLYESTER, BLENDED FIBER

FAN MOTOR

:1.1 K.W. (1.5 H.P.)

FEED ROLLER

:0.37 K.W. (0.5 H.P.)

STRIP ROLL MOTOR

:1.1 K.W. (1.5 H.P.)

WEIGHT

:700KG

| | |
| --- | --- |
| LENGTH | 2185mm |
| WIDTH | 1016mm |
| HEIGHT | 915mm |

| | |
| --- | --- |
| LENGTH | 690mm |
| WIDTH | 690mm |
| HEIGHT | 2045mm |